Born in Manhattan (yes, he is an American citizen!) on November 16, 1981, Ben grew up in Ra'anana and at a young age began taking various drama classes.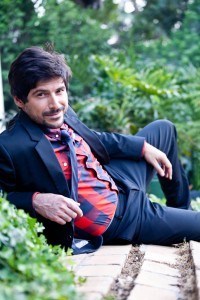 In high school, in addition to sociology and political science, he majored in theater, studied with Sophie Moskovitch and graduated with honors.
In august 1999 Ben was drafted and served as a skydiving instructor. Between one skydiving to another he found time to direct and act in a few army plays.
Discharged in 2003 (following one year in standing army service) Ben took a trip to south and central America. He continued to the US, where he lived for two years and started a sales company before finally arriving at the big city – Tel-Aviv!
Ben studied theater at Sela's performing arts studio, on-camera acting with Liat Bein, vocal training with Maya Avidan, studied at the Stage Center with Shemi Zarhin, Ram Nahari, Dror Shaul and Rani Blair, at Acting the Game workshop with Yaron Kafkafi and Rani Saar, at Alon Abutbul's workshop and at Casting Yourself with Orit Azulay.
Ben acted in such programs as: Asfur 2, The Office, Rosh Gadol season 4-5, Maybe This Time 2, A Family and a Half Continues, The Tel-Avivians and 1.70 Meters.
Ben starred in videos of artists such as Danny Robas, Ivri Lider, Yermi Kaplan, Safari, Yoni Bloch, C-van Yichye, Amir Benayun, Monica Sex, Dana Lapidot, Yehu Yaron, Road Safety, image films, trailers, commercials (Neviot, Heineken, Dor Alon, Orbit, Seat, Vespa, Bezeq, Piaggio, Keter and more), campaigns and over a hundred student films. In theater Ben has acted in Sometimes and in Aunt Liza. He is currently acting in the musical duet Blind Date and is filming two feature films as the leading man.